High Quality and Carefully categorized class
質の高い授業
創業40年の質の高い授業と合格のためのノウハウ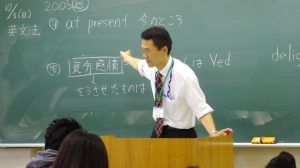 Many Japanese universities have adopted the EJU (EJU). Therefore it is important to take a high score in the study. Since classes are carefully organized according to skill level,  you can study at classes suitable for your Japanese level and learning speed. And also you can have courteous teaching by teachers with extensive experience in Japanese language education and with various backgrounds.
Strong bond of Trust
卒業後の進路先を保証
40年の実績が保証する学校との強い絆
If you aim to advance to a university or a specialized school after graduation, we have abundant experience to send you to a lot of schools including top universities and graduate schools. With such experiences, class teachers and specialized staff provide advices for you to advance to higher education suitable to you. We associate with many private universities and vocational schools. Preferential treatments are given to you when you advance to these schools.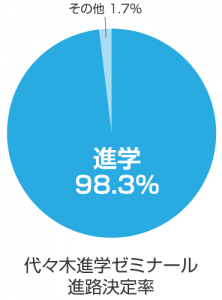 国立大学

東京大学・一橋大学・千葉大学・東京外国語大学・首都大学東京・東京工業大学・東京農工大学・電気通信大学・埼玉大学・広島大学・北海道大学・大阪大学・京都大学 など

私立大学

早稲田大学・慶応大学・上智大学・明治大学・青山学院大学・立教大学・法政大学・中央大学・日本大学・東洋大学・駒澤大学・専修大学・亜細亜大学・昭和女子大学・西武文理学園大学・明星大学・武蔵野美術大学・国立音楽大学 など

専門学校

東京国際ビジネスカレッジ・東京コミュニケーションアート・東京デザイナー学院・東京ビジュアルアーツ・東京フィルムセンター映画・俳優専門学校・東京IT会計専門学校・東京アニメ・声優専門学校・東京デザイン専門学校・東京スイーツ・カフェ専門学校・日本工学院専門学校・日本電子専門・学校・日本工学院八王子専門学校・専門学校日本ホテルスクール・ホスピタリティツーリズム専門学校・山手調理製菓専門学校・専門学校 読売自動車大学校 など
We help you get a great education and provide you essential information
学校選びの場
進学進路相談会
を代々木進学ゼミナールグループ主催で実施
We provide you essential information to help improve educational opportunities.
So We will have an event inviting nearly all schools in Tokyo. It is a valuable opportunity for you to talk directly with school teachers. You will be able to find schools that can realize your future dreams!


Various learning experiences
様々な体験学習
In addition to learning Japanese, we have prepared many experiential Japanese practice programs.



Interaction with Japanese students
Interaction events that you can meet the many Japanese students belonging to Yoyogi Shingaku Seminar Group are prepared as a cross cultural exchanges plan.
There are lots of opportunities to make a presentation of your home country, to work together from old-time play of your home country together, to cook homemade food together, to eat together, and to interact with Japanese people.




[Yoyogi Shinbaku Seminar Gropup ]
Summer School
Summer school will be held in beautiful countryside village, it is an event of 5 nights and 6 days where you can experience various experiences like Japanese drumming performing arts, hot spring experiences, sports events, etc.
In Japanese drumming experience, master of Japanese drums leads.
And you can interaction local people at the public hot spring bath.
You can enjoy Suikawari. It is a traditional Japanese game that involves splitting a watermelon with a stick while blindfolded.
By trekking the virgin forest, you can see the nail mark of a bear.
You can enjoy fireworks and camp fire with Japanese students together.





Calligraphy Experience
The teacher who has a calligraphy master license teaches calligraphy.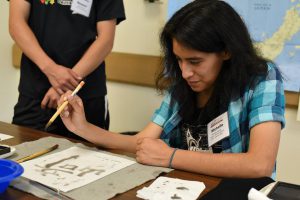 Traditional tea ceremony called Sado
You can experience traditional tea ceremony called Sado. The Master of Sado will be invited to our school and he will teach us how to behave properly with wearing Japanese kimono.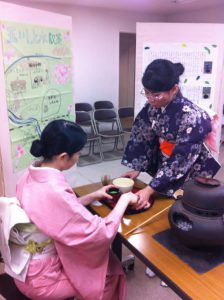 Ninja Experience
A ninja is kind of spy. They majorly existed from 1100 A.D to 1600 A.D. They use a lot of ninjutsu, which is the technique or method for their job or activity. It means to collect information, observe, assassinate and so on. "NARUTO" is the most popular ninja manga. You can learn the roots of ninja and experience ninja.